Citroën delivers first ë-Jumpy Hydrogen to SUEZ Group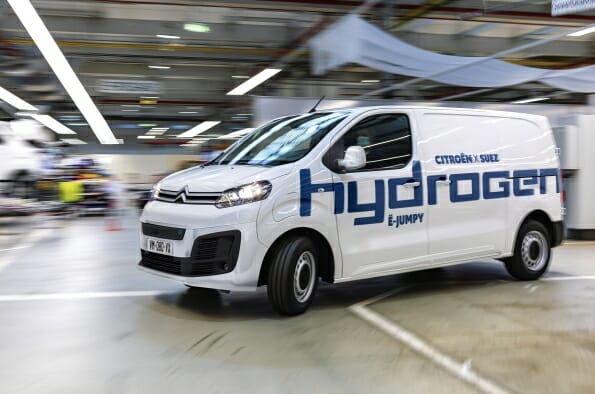 The development of hydrogen fuel cell technology is moving fast at Citroën as the first ë-Jumpy* Hydrogen van comes off the assembly line.
With a range of 248 miles (400km)** and a fuel tank refill time of just three minutes, Citroën's fuel cell technology meets the needs of operators embarking on longer journeys, as well as users requiring rapid refuelling in order to maximize the use of their vehicles.
This first ë-Jumpy* Hydrogen is on its way to an important customer – SUEZ Group – that is preparing to carry out full-scale testing at its Carcassonne facility in France. This is a pilot location where SUEZ is investing in green hydrogen production, which is set to become a key focus in the coming years.
Citroën is expanding its array of electrified utility solutions in order to adapt to the varied requirements of fleet and business operators, and to offer the most comprehensive range of options on the market – from Ami Cargo Electric all the way up the range to ë-Jumper***.
Citroën and SUEZ Group – two long-standing commercial partners – are committed to common values: innovation in support of their customers, and the desire to build an environmentally-responsible world, based on a clear goal – rethinking fleet management by switching to clean mobility.
"The fuel cell hydrogen solution is now becoming a reality with this first ë-Jumpy Hydrogen coming off the assembly line. Complementing our electric portfolio, it will give customers a greater driving range (especially on faster roads) and optimise vehicles' usage time thanks to its ultra-fast refuelling. All this, while retaining the capabilities and practicality of the vehicle to remain relevant on the LCV market. Citroën is proud to be able to combine all the qualities that have made its thermal vehicles so successful, while adding the peace-of-mind of more environmentally-responsible, future-focused driving. With the current plans to develop hydrogen, this is a major new solution complementing the widest range of electric utility vehicles on the market. We are pleased to offer SUEZ – a privileged partner, strongly committed to reducing our environmental footprint – this first vehicle for full-scale testing under real conditions."
Laurence Hansen – Citroën Product and Strategy Director
THE HYDROGEN OFFER: A CONCRETE REALITY
Announced at the start of the year, fuel cell technology is now a reality with the production of the first Citroën ë-Jumpy Hydrogen. This first hydrogen light commercial vehicle is on its way to a priority customer – SUEZ Group – to complete testing. A new milestone has therefore been reached in the Citroën brand's electrification strategy, responding to the challenges of tomorrow.
Citroën is one of the first manufacturers to industrialise this new energy solution for the future, supplementing battery electric power, which is currently the subject of massive investment programmes in France and Germany, and in many other countries. Citroën is thereby remaining faithful to 100 years of innovation and expertise in commercial vehicles, to offer bespoke solutions for every professional vehicle operator, both now and in the future.
A COMPLEMENTARY SOLUTION, ADAPTED TO SPECIFIC USES
The choice of hydrogen technology is fully in line with Citroën's electrification strategy, and the desire to offer a variety of technical responses depending on usage. New Citroën ë-Jumpy Hydrogen completes the brand's ë-LCV range, which is the largest on the market – from Ami Cargo Electric to ë-Jumper***, via ë-Berlingo Van and ë-Jumpy*.
The Citroën brand's LCV electrification strategy is based on a key principle: never compromise on vehicle capabilities or practicality – characteristics that make each van a benchmark in its segment.
The Hydrogen solution is aimed at customers that need a range of more than 186 miles (300km), for longer delivery rounds, for example. Or for customers who require a vehicle that can be re-fuelled quickly in order to maximize usage time, who need access to restricted city centres, but who also have a usage profile more suited to faster roads and motorways, where there is easy access to hydrogen fuel stations. With hydrogen vehicles of this type, more professional vehicle operators reduce the carbon footprint of their fleets, making their activities more sustainable.
There is a wide range of target customers for this technology, all sharing two points in common: a commitment to the energy transition and the need to access city centres. They may be courier operators, undertaking 'last mile' deliveries and transportation over longer distances, as well as local authorities or manufacturing businesses.
AN EFFICIENT ARCHITECTURE TO MEET EXPECTATIONS
"We have chosen a mid-power architecture for our hydrogen fuel cell vehicle, combining the best of electric with a 10.5kWh lithium-ion battery, a 45kW fuel cell and 4.4kg of useful hydrogen storage to offer a total driving range of more than 248 miles (400km) on the WLTP cycle**. The traction battery particularly provides ready power when starting and accelerating, as well as allowing good energy recovery. The fuel cell meanwhile, gives the vehicle an impressive driving range. The sizing used and the resulting integration have enabled us to propose an uncompromising range of light commercial vehicles, since we notably preserve one of the main features, which is loading volume (identical to that of its electric and Diesel equivalents)."
Christian Maugy, Hydrogen Fuel Cell Specialist
EXTENDED DRIVING RANGE
Citroën ë-Jumpy Hydrogen has two complementary propulsion systems: a battery to store energy and supply electricity, and a fuel cell that converts hydrogen and the oxygen in the air into electricity, water and heat. As long as it is supplied with hydrogen, this power generator works continuously. The electric motor, mainly powered by the 45kW hydrogen fuel cell, is therefore able to offer an extended driving range of nearly 217 miles (350km)**. The 10.5kWh-rated lithium-ion battery acts as a back-up, able to cover 31 miles (50km) on the WLTP cycle**. It also provides additional power necessary to give dynamic vehicle performance, especially when accelerating, and enables energy recovery during deceleration and braking. The combination of these two components ensures a driving range of over 248 miles (400km)**.
RAPID REFUELLING
Filling ë-Jumpy Hydrogen is 20 times faster than charging an electric vehicle (based on charging at a 100kW public charging station). Barely three minutes are therefore enough to fill up the three hydrogen tanks, which have a useful storage capacity of up to 4.4kg, saving time and increasing productivity for companies that cannot afford to leave their vehicles charging for long periods, giving them longer usage times.
UNCHANGED CAPACITIES AND PRACTICALITY
Like its electric vans – ë-Berlingo Van, ë-Jumpy* and ë-Jumper*** – Citroën has ensured the load volume of ë-Jumpy Hydrogen is not affected by the integration of the battery and hydrogen tanks, so that customers can benefit from the added value of this new technology without negatively impacting the vehicle's useful load space – the main requirement of operators in this segment. To preserve the primary function of ë-Jumpy Hydrogen, involving the frequent transportation of bulky and heavy objects, the battery has been installed under the seats in the cab area and the three hydrogen tanks are under the floor. The useful load volumes of the two available models are therefore unchanged compared with the electric versions: 5.3m3 for the Medium size and 6.1m3 for the XL. Similarly, the payload and towing capacity can reach up to 1000kg, in line with the Diesel versions.
Citroën ë-Jumpy Hydrogen is assembled at the Sevel Nord plant in France and converted at the Stellantis Group's hydrogen fuel cell centre of expertise in Russelsheim, Germany.
SUEZ, OUR PRIVILEGED PARTNER TO TEST THE FIRST CITROËN Ë-JUMPY HYDROGEN
"The environment and innovation are central to the SUEZ Group, which works on a daily basis to preserve the essential elements of our environment. The Group is exploring and developing new solutions across all of its activities in order to shape a sustainable future and achieve its objective of reducing its CO2 emissions by 45% by 2030. The adoption by SUEZ of electric and hydrogen vehicles marks another important step towards making its vehicle fleet carbon-free. Ë-Jumpy Hydrogen therefore makes it possible to maintain the same payload as the Diesel version, while optimising journeys by providing sufficient driving range, thereby avoiding having to return to base every day."
Yves Colladant, Group Category Manager – Light Vehicles
SUEZ Group wants to make low-carbon mobility a key component of its carbon strategy, which aims to reduce the Group's CO2 emissions by 45% by 2030. By developing solutions for recovering energy from water and waste, the Group is able to optimise its customers' energy consumption, promote the use of high-potential renewable energies and consolidate SUEZ's expertise in hydrogen production as a key player in the sector. With more than 200 electric vehicles, SUEZ wants to step up the replacement of its fleet with vehicles that have low greenhouse gas emissions, to ensure greener mobility for light and utility vehicles and tipper trucks.
The first ë-Jumpy Hydrogen will be delivered shortly for testing under actual conditions for two weeks. It will provide a practical solution to the needs of the Group's business lines at the Carcassonne branch, by responding to the numerous daily uses of operational supervisors who need to visit various sites. The site is overseeing the project as part of an agreement between Carcassonne Agglo and SUEZ [1], in order to support the local authority with its energy transition ambitions, particularly through the commissioning of a local green hydrogen production station for SUEZ agents' electric vehicles. This station is capable of supplying a total of four vehicles with 2kg of hydrogen per day.
This test will also be an opportunity for Citroën to validate the development of this technology under actual usage conditions. The collaboration to test this very first vehicle was a natural decision, in light of the relationship of trust forged between Citroën and SUEZ Group over the past few years. A commercial partnership, but also a coming together based on shared values, in order to innovate and shape a more sustainable environment. The two companies recently collaborated for the launch of Ami Cargo Electric – the innovative micro-mobility solution for professional users – at the waste-water treatment and recovery plant in Saint-Cyr l'Ecole, in the Greater Paris region. Ten Ami Cargos are in the process of joining the SUEZ fleet for journeys between worksites and to take meter readings – so both Ami Cargo Electric and ë-Jumpy Hydrogen will be part of the SUEZ fleet very soon.
Source: Citroën delivers first ë-Jumpy Hydrogen to SUEZ Group | Newspress UK
ENDS
EDITORS' NOTES:
* 'Jumpy' and 'ë-Jumpy' are named 'Dispatch' and 'ë-Dispatch' in the UK
** Pending WLTP homologation
*** 'Jumper' and 'ë-Jumper' are named 'Relay' and 'ë-Relay' in the UK
[1] Carcassonne Agglo (11) has entrusted SUEZ with the management of water and sewerage contracts for 90,000 inhabitants out of the 115,000 within its scope. These two 10-year contracts began on 1 January 2018.
SUPPORTING ASSETS AVAILABLE AT:
Username: GammeVULCITROEN21
Password (CAPS): EJUMPYHYDROGEN2021
FOR FURTHER INFORMATION:
FOLLOW CITROËN ON TWITTER AT: www.twitter.com/citroenuk
FIND CITROËN ON FACEBOOK AT: www.facebook.com/citroenuk
FOLLOW CITROËN ON INSTAGRAM AT: www.instagram.com/citroenuk
The Citroën brand
Since 1919, Citroën has created automobiles, technologies and mobility solutions to respond to evolutions in society. Being an audacious and innovative brand, Citroën places serenity and well-being at the heart of its customer experience, and offers a wide range of models, from the unique Ami, an electric mobility object designed for the city, to sedans, SUVs and commercial vehicles, most of them available with electric or plug-in hybrid powertrains. A pioneer brand in services and the attention paid to its individual and professional customers, Citroën is present in 101 countries with a network of 6200 sales and service points around the world. Citroën UK media website: https://uk-media.citroen.com/ – @CitroenUK