Citroën ë-Jumpy Hydrogen: first 'real world' results demonstrate promise of new technology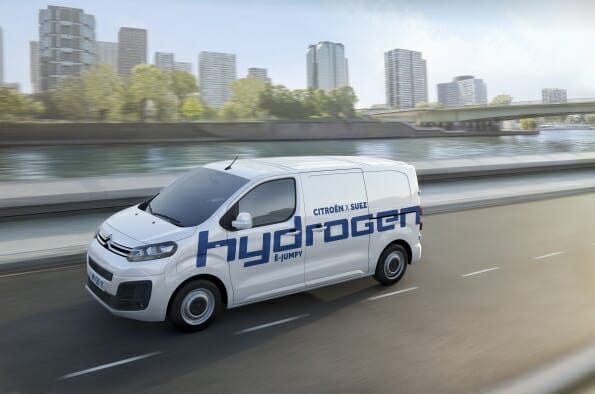 In January, SUEZ Group started using the first Citroën ë-Jumpy* Hydrogen in real world conditions at its Carcassonne facility in France – which has its own green hydrogen production station.
Trials highlighted the practical benefits of Citroën ë-Jumpy Hydrogen – 248 mile range, quick refuelling times and compatibility with the clean source of energy available on-site.
Integration of fuel cell technology in Citroën ë-Jumpy Hydrogen has been achieved without any loss of volume or payload.
Encouraging initial results highlight Citroën's ability to innovate, adapt to new trends in terms of energy transition and embracing transportation decarbonisation by offering vehicles tailored to different uses.
The SUEZ Group has been conducting real world trials of Citroën ë-Jumpy Hydrogen at its Carcassonne site in France. The feedback has been overwhelmingly positive, serving to highlight the benefits and capabilities of the new hydrogen powered vehicle. The operations team, have been particularly impressed by the panel van's overall usability, extended range and practical payload.
The site foremen at the Carcassonne location use ë-Jumpy Hydrogen exclusively for their daily activities. Their role is multifaceted, involving worksite visits, the restocking of small and large equipment supplies and emergency repair work in the event of a water leak. They regularly undertake journeys of over 60 miles – a significant distance that can be achieved multiple times with ë-Jumpy Hydrogen's 248 mile range.
Hydrogen technology allows for optimum practicality and wide-ranging usage requirements thanks to quick refuelling times that ensure vehicles are almost permanently operational. A complete refuel takes just 6 minutes from a 350 bar pump, while stations fitted with a 700 bar pump can refill in half that time. The 10.5kWh battery – providing a 31 mile backup power supply if the hydrogen tanks run out – is very easy to charge on a standard 230V socket.
EASE OF USE
Citroën ë-Jumpy Hydrogen offers all the on-board comfort you expect from the famous French brand, while also being hassle-free in operation thanks to the hybrid electric-hydrogen technology. Users can carry out all their activities with total peace-of-mind, without any stress over driving range or ability to load equipment. Whilst being capable for multiple short journeys throughout a day, the range of the vehicle meets the needs of the 44% of customers in the compact van segment who say they occasionally travel more than 185 miles. Hydrogen technology offers a new solution in the field of professional mobility, complementary to the development of purely electric versions. Hydrogen technology is less sensitive when it comes to carrying heavy loads, driving speeds and weather conditions.
The load volume of ë-Jumpy Hydrogen is the same as for the standard Citroën Jumpy*, with 5.3m3 for the Medium body style and 6.1m3 for the XL version. This also means a payload and towable load of up to 1 tonne on both versions, and a width between the wheel-arches of 1.25m.
CITROËN'S CHOICE OF 'MID-POWER' TECHNOLOGY
The hydrogen technology combines a Lithium-ion battery with a fuel cell connected to hydrogen tanks. When hydrogen and air are brought into contact with a catalyst, the fuel cell generates electricity to power an electric motor. The only emission produced is water vapour. Compared to a battery, a fuel cell is considered more as an energy converter than a storage device.
This hybrid solution was chosen by Citroën following research conducted in partnership with Symbio, a joint venture specialising in fuel cells created by Michelin and Faurecia. Citroën ë-Jumpy Hydrogen benefits from both a 10.5kWh Lithium-ion battery and a 45kW fuel cell, powered by three 700 bar hydrogen tanks, developed by Faurecia, with a storage capacity of up to 4.4kg of hydrogen.
Hydrogen provides the energy needed for greater range, while the mid-capacity battery combines power and performance with energy recovery and recharging capability. As this solution positions the battery pack under the seats at the front and the hydrogen tanks under the floor in the rear of the van, the modifications have no impact on the load volume of the vehicle. This system also ensures there is no compromise in performance, with a fuel cell powerful enough to guarantee constant speed on the motorway. The battery then provides the energy required for acceleration and the extra power required when starting and for the first few miles on the road. Hybrid technology also means that the battery provides reserve power when the hydrogen tanks are empty, meaning drivers reduce the risks of 'running dry'.
TECHNOLOGY OF THE FUTURE
The versatile technology seen in Citroën ë-Jumpy Hydrogen will play an essential role for mobility solutions in the transition to greener energy sources.
A CARBON-FREE MOBILITY SOLUTION FOR PROFESSIONAL USE
Many companies, such as SUEZ Group, which are taking a proactive approach to reducing their environmental footprint, will have a strategic interest in using a hydrogen ecosystem to improve their fleet's green credentials. Other organisations may also have a need for it, such as municipal services and local authorities, the transport and logistics sector, express and special courier services or work vehicles, and other professionals that need versatility dependent on the nature of their work.
A DISTRIBUTION NETWORK BOOSTED BY SUPPORT FROM GOVERNMENT BODIES
The number of initiatives to develop carbon-free energy sources is increasing massively on a global scale. By 2055 in Europe, 450,000 Light Commercial Vehicles and 10,000 trucks are expected to run on hydrogen. To meet expected demand, the network of stations should expand to include 10,000 charging points. Industrial companies in the sector are likely to invest €430bn over the next 10 years, with subsidies from Europe and member states accounting for around 25% of the total. The number of hydrogen fuel stations is set to increase from 133 in 2021 to 2,500 in 2030, including 1,000 in France and 1,000 in Germany. Over the same period, the price-per-kilo of hydrogen could be halved.
SUEZ LOOKS TO GREEN HYDROGEN
The challenge in terms of energy transition is to develop renewable green hydrogen production via the electrolysis of water using electricity from wind, solar power or biogas. SUEZ Group, in association with SIPERREC, is developing a project that aims to create the first green hydrogen production and distribution plant (electricity produced from combustion of household waste transformed into hydrogen by a water electrolysis process) at an Energy Recovery Unit in Créteil in France. The plant is due to be operational by the end of 2022 and should eventually be able to produce up to 1 tonne of hydrogen per day, thereby preventing the emission of 1300 tonnes of CO2 each year.
* In the UK Citroën Jumpy is called Citroën Dispatch.
SUPPORTING ASSETS AVAILABLE AT:
Username: GammeVULCITROEN21
Password (CAPS): EJUMPYHYDROGEN2021
ENDS
FOR FURTHER INFORMATION:
FOLLOW CITROËN ON TWITTER AT: www.twitter.com/citroenuk
FIND CITROËN ON FACEBOOK AT: www.facebook.com/citroenuk
FOLLOW CITROËN ON INSTAGRAM AT: www.instagram.com/citroenuk
The Citroën brand
Since 1919, Citroën has created automobiles, technologies, and mobility solutions to respond to evolutions in society. Being an audacious and innovative brand, Citroën places serenity and well-being at the heart of its customer experience, and offers a wide range of models, from the unique Ami, an electric mobility object designed for the city, to sedans, SUVs, and commercial vehicles, most of them available with electric or plug-in hybrid powertrains. A pioneer brand in services and the attention paid to its individual and professional customers, Citroën is present in 101 countries with a network of 6200 sales and service points around the world. Citroën UK media website: https://uk-media.citroen.com/ – @CitroenUK
Source: Citroën ë-Jumpy Hydrogen: first 'real world' results demonstrate promise of new technology | Newspress UK